---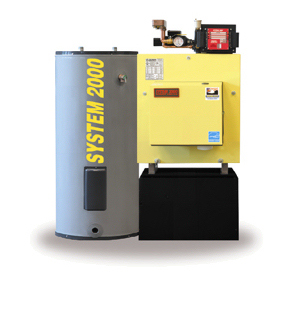 Key Features
Consumes up to 40% less fuel
Near-endless hot water
Whisper quiet operation
Optional Pool / Hot Tub heating
Supports Oil, Natural Gas, and Propane
Excellent warranty
Made in the USA
System Overview
With the System 2000 by Energy Kinetics, you can start saving your hard-earned money fast. What sets the System 2000 aside from all other heating systems is it's efficiency. The System 2000 is the most efficient heating system on the market to date. With it's one-of-a-kind design and operation, Energy Kinetics has been saving customers money since 1979. The boiler is made by a great company in Lebanon, New Jersey, and the unit itself is made in the United States. Along with the outstanding product, Energy Kinetics provides an excellent warranty to go along with it. No matter what your application is, Energy Kinetics likely has a system that will fit your needs. For more information, please see EnergyKinetics.com or feel free to contact us!
Nearly Endless Hot Water
System 2000 provides nearly endless hot showers with super efficient high output hot water; it's readily available through a high performance storage tank. System 2000 replenishes hot water as needed, and anticipates when no additional hot water is required. At the end of a hot water call, the burner automatically shuts down, the Hybrid Energy Recovery® cycle recovers heat left in the boiler and delivers it to the hot water storage tank so no energy is left wasted in the boiler.
Best Efficiency
Savings with System 2000 are much greater than with comparably rated heat and hot water systems. System 2000 had the highest annual efficiency in the study – even better than the 95% AFUE boiler tested. Also on this page you could run a high efficiency calculator to estimate your savings.
Silent Operation
System 2000's whisper quiet operation is extraordinary and continues to lead the industry as the quietest boiler available. Homeowners often compliment System 2000's industry leading design by asking to hear the boiler run on the day of a new install…only to find out that it was already running! Now that's quiet!
System 2000 and Colonial Heating Service
Colonial Heating Service is proud to be a Premier Dealer of Energy Kinetics and the System 2000. Premier Dealer status is the highest level of dealership, which is only achieved by meeting strict standards. Dealing with a Premier Dealer comes with great benefits for the customer.
Random Testimonial
~ Ernie from Hewitt, NJ

"I just wanted to send you and Debbie a thank-you for the great job you did on replacing my furnace. you guys really work well together and are a credit to your profession."